Today in our house, along with all of the Pacific Northwest we are mourning the loss of one of LT Wonderful's childhood icons, Mr. Dave Niehaus.

Dave was a Hall of Fame announcer for the Seattle Mariners. Since the LT spent much of his life away from Seattle, Dave always brought the Mariners home to him. Even when we were thousands of miles away, Dave's voice brought us a little slice of home.

Thank you, Dave. You will be missed.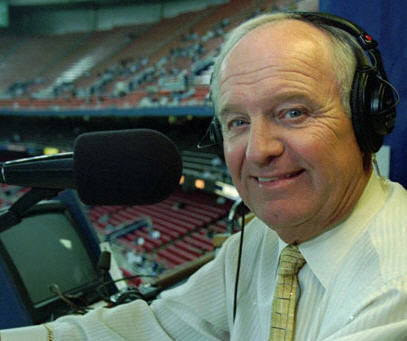 Image from American Sportscasters Online
"The stretch...and the 0-1 pitch on the way to Edgar Martinez, swung on and LINED DOWN THE LEFT-FIELD LINE FOR A BASE HIT! HERE COMES JOEY, HERE IS JUNIOR TO THIRD BASE, THEY'RE GOING TO WAVE HIM IN! THE THROW TO THE PLATE WILL BE...LATE! THE MARINERS ARE GOING TO PLAY FOR THE AMERICAN LEAGUE CHAMPIONSHIP! I DON'T BELIEVE IT! IT JUST CONTINUES!
MY OH MY!"